Hey, hey friends!
I am starting a new blog series called "Product flops" aka Products that did not work for me. I posted on instagram asking if anyone was interested in hearing my thoughts on products that just didn't work out for me and I recieved a positive feedback on my comments along with dm's.
Disclaimer: What may have or may have not worked out for me doesn't mean it will apply the same for you. Everyone's skincare type is different. These are my personal experiences with these products..
I no longer own many of these products because I tend to declutter and give away products that did not work for me to my family members and close friends. For consistency, I will be posting a photo of these products I found online with the description and experience I had with it below.
Guerlain Lingerie de Peau Fluide Foundation in 02N
A couple of months ago, I was on the hunt for a new foundation to try out and I wanted one that had medium coverage and felt weightless on the skin. I saw quite a few bloggers post about this particular foundation and I quickly went to grab it at my local Sephora. The weird thing was, I swatched this foundation at the store on my hand it somehow turned orange within 10 minutes so I thought maybe the tester went bad and went ahead to grab it anyway. If it doesn't work out, I can just return it, right? I went home to test this foundation out and to my surprise, I turned into an oompa loompa. Even wiping this foundation off with a makeup remover cloth, you can visibly see that it is full blown orange. Thank god I did not go out looking like that because I'm sure many people would find it amusing. It also has a really bad floral scent to it. I am not even sensitive to scents and I didn't find the scent pleasant at all. Out of all foundations I own whether it's from the drugstore or high end, I have never seen any of them oxidize the way how this oxidized on my skin.
Colourpop Amber Crystal Collection – 3 pc – mist, lip balm and liquid highlighter
Something I quickly learned about Sephora "sale" items are that they USUALLY are on sale for a reason. This was when Sephora had Colourpop for a month and then took them off the shelves for some reason. The highlighter was a fail and was just an oil with shimmers in it. It would constantly seperate with the shimmers at the bottom while the oil fluid ontop. It wasn't even buildable and was a fail for me. The mist smelled horrendous, it smelled like a bitter herbal scent. The only thing that I enjoyed from the scent was the lip balm for it's beautiful red orange tint, sweet and soft mango butter scent and performance for lasting throughout a long day. I normally love colourpop products but the liquid highlighter and mist was a total fail for me. I'll stick to their fantastic super shock eyeshadows, pressed shadow palettes/singles and concealers!
Too Faced Born This Way Foundation in Ivory
*FYI – I purchased this foundation when the shade range was much more smaller back then.
This was my very first high-end foundation and was also the only foundation I swore by working at my first job. It has a medium to full coverage.
The consistency was perfect for me since it wasn't too thick in formula nor was it too watery but how it performed on my face was a different story. As I played around with more makeup, I started to realize that this foundation does not work for me for various reasons. It oxidized into a Simpsons yellow on my face, it clung to all my dry patches and emphasized my pores and has a very odd paint scent to it just like the UD Naked skin foundation and Estee Lauder Double Wear foundation has. Luckily it did not break me out but I definitely would not repurchase this foundation even in another shade.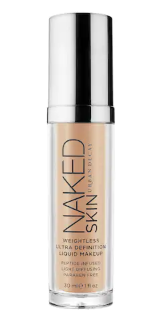 Urban Decay Naked Skin Foundation in 2
This was either the 2nd or 3rd foundation I tried when I got into makeup and it was awful. Urban Decay was reputable for their fantastic naked palettes, perversion mascara and the OG 24 hour glide on pencil eyeliners but this foundation was terrible for me. So terrible that I threw it out and did not think twice to give it to pass it on to someone else. First of all, it had a horrendously strong chemical scent between a spray paint x accetone and it had a strange thin, watery consistency and everytime I dispensed it out from the container, the product would have air bubbles in it. When I applied it on my skin, it dried up pretty fast but within an hour my face started to look extremely dehydrated. I'm not sure what was in this foundation but was bad news for my skin… I broke out on my forehead, cheeks and chin and if any of you know me, I don't break out unless my skin reacts negatively to a product, hormonal or too much sodium in my diet.
Etude House Tint My Brows Gel in Gray Brown
I'm sure quite a few of you are shocked by why this product did not work out for me considering the fact this is raved and loved by many influencers and was featured on social media for quite a long time. This product is effective however it has a bad side to it. It has a very odd chemical scent to it. I'm not sure how people found it pleasant. I have repurchased this product over 4 times in different shades and my feelings about it have not changed about it. I always thought maybe I got a bad batch, maybe I'm using it wrong. My brows are tinted beautifully after every application, my problem is that I can't use any face masks or wash my face because the tint will easily come off. The shade I have been using more frequently is Gray Brown but after a few days, the tint on my eyebrows turn into this strange forest green colour… If any of you are on the hunt for a good brow tint, I strongly suggest you to try the clio duo brow pen.
Alright, that is all for today. There are more products I wanted to share but we'll leave that for another time. Til' next time, friends.
Toodles!